WheatBread Issue#6: September 1996
["Won't Get Fooled Again" by the Who]
A Note on Discrepancies: In addition to photos and articles only available here, most copy editing, graphic design, and layout mistakes have been fixed. Care has been taken to preserve the character of the original. NOTE: WheatBreads #1-#9 are 11x17 in size; WheatBreads #10-present are 8.5x11.

#6
---
[click above to get entire issue]
CONTENTS:
All pages in lemon-fresh PDF format.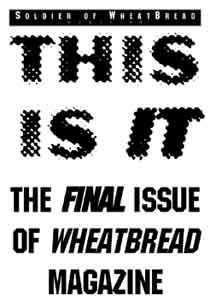 2. "WheatBread Closes Its Doors"-- an interview by and with Randy Mack ('98)

Also features the Masthead, credits, and legal mumbo-jumbo

3. "About This Issue" -- WB#6's liner notes and insider info

"The Secret of WheatBread's Name" (with a cartoon!)

4. The ROC-U Update, or "What the Fuck's up with the Radio Station that Used to be ROC-U???" by Zack Ordynans ('98)

Includes the Fall '96 programming schedule

5. "Student Council Representatives Elected in Tense Race" -- political analysis by a(nother) self -proclaimed expert [in truth, Council-oriented humor by Randy Mack ('98)]

"'Poking Ghost' of Wright Hall Seen Again"-- (fake) news update by Mike Schemaille ('9?)
"Corrections and Updates" for news from WB#5
Special Section:
the Mystery Science Theater 3000 convention

6. "The MST3K Convention and What it Meant to Me" by Brendan Sheehan ('97)-- getting acquainted with the cast and crew of the cult tv show "Mystery Science Theater 3000"

"Diary of a Juliewa Hopeful" by Amy Baranoski ('97)-- the log of our five days in MSTie paradise

6.5. "So what is this MST3K thing (and why did 2500 freaks like us fly over 1000 miles to go to some place called Eden Prairie)?" by Amy Baranoski ('97)-- the history of Mystery Science Theater

7. "Mystery Science Theater: Like Pigs to Shit" by Randy Mack ('98)-- a hard look at the culture clash between MSTies and Minnesota

"Fear and Loathing in Minneapolis..." by Dr. Thirsty [aka Jeff Carter ('96)]-- a hard look at MSTie culture through a thick haze of mescaline and adrenachrome and gods know what else

8. "MSTie Diary..." continued...

"Fear and Loathing..." continued...
plus some really neat photos
Art Section: [note: letter-sized pages]
...cont'd
13. "The Case Against Consumer Recycling" by Erik Ghenoiu ('96)-- why recycling is wrong

"A True Fairy Tale from the Kingdom of Clark" by Amanda Reyna ('98)-- sexual assault and Clark Housing policies meet once again

14. The Fall '96 CUFS schedule

a big-ass ad for JOTA

15. The "Bond Women of Clark" contest

a [fake] ad for Murat Arsel Automakers [see page 2 for an explanation]

16. "A Holiday Look into the Criminal Mind" by Adam Clark and Randy Mack ('98)-- the true story of "Late Night with David Letterman," GE security, and two starving smart-asses

"In Defense of Telemarketing" by Rachel Eisner ('96), poet and telemarketer
a PSA about the Lizard people [based on true events]

17. "Vax Wacks, Slaps, Smacks, Splats, Slacks, and Facts" -- a two-month compilation from the Vax Bulletin electronic message board

18. "Unused Campaign Speech for JR Class Rep" by Zack Ordynans ('98)-- he ran unopposed, but just in case, he wrote this

"How to Serve the Lord" by Mike Schemaille ('9?)-- snide recipes
"Top Ten Things That Just Aren't Quite Right" by Randy Mack ('98)